Don't Fret About Fall Maintenance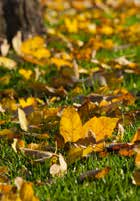 One of the beautiful things about EasyTurf artificial grass yards is their ability to stay in pristine condition year-round with very little maintenance. Now that fall is in full swing, what do EasyTurf owners need to know in order to keep their lawn in tip-top shape?
With leaves making their way down onto your lawn along with other stray debris, your turf's aesthetics may be left behind as the season progresses. But not to fret–with just a little bit of regular maintenance, your artificial grass yard will be back to its original showroom state.
To ensure that the pleasing greenery of your turf doesn't stay hidden beneath a pile of leaves this fall, we recommend that you use either a leaf blower or rake roughly once a week. Just doing this alone will keep your artificial grass yard looking ten times better than others!
In addition to keeping your yard clear of leaves, it is also important to rinse down your backyard's artificial grass about once a week to allow dust, dirt, and any pet urine to drain from the surface of your grass. This will go a long way towards ensuring the attractiveness and longevity of your yard, keeping it nice and clean.
Maintaining artificial turf is just as simple as with ordinary grass, without the obvious need for the usual watering and mowing.
EasyTurf artificial grass is renowned for its durability and resilience to environmental factors such as weather and debris, and the low maintenance grass associated with the fall season is yet another example of EasyTurf's ability to stand the test of time all year long.