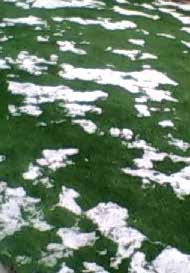 Looking for grass that stays green all year?
Realistically, your lawn needs to endure more than just the four basic seasons.  Harsh weather, high foot traffic, or frolicking dogs are sure to damage your yard. Want green grass in winter? Artificial grass will help you keep a beautiful landscape all year-round. Cesar Millan chooses EasyTurf because it allows humans and dogs to enjoy all seasons with grass that stays green all year long.

BBQ Season
In times of fair weather, there are few things better than an outdoor barbecue with family and friends.  EasyTurf is like a built-in picnic blanket: comfy to sit on and merciful when it comes to messes.  Dropped your burger?  Not a problem.  EasyTurf artificial grass wipes clean and has a 100% permeable backing, so ketchup and mustard can do their worst.  Just be sure to fire up your grill on the back porch and not the turf.
Rainy Season
In areas suffering from drought, rain can be a great relief.  But serious storms can also wreak havoc on traditional grass lawns.  If puddles or flooding are a concern, rest assured that EasyTurf's MaxxFlow backing will allow water to drain evenly without standing.  Also, since the turf drains quickly, your pets are less likely to have muddy paws or track in dirt as they might with natural grass lawns.
Snow Season
Finally, green grass in winter. With artificial grass from EasyTurf, you won't have to hold your breath all winter, wondering what your lawn will look like once the snow melts.  Specially designed materials enable the artificial grass to endure cold climates, and even harsh temperatures will not freeze the turf.  Because EasyTurf is 100-percent porous, you won't have the mud or puddles of a traditional lawn.  So when the snow does finally melt, all that will be revealed is your lush, green lawn.

Dog Season
Pets are our friends for all seasons.  Happily, dogs can enjoy playing on soft yet durable EasyTurf year-round, and you can enjoy green grass all year long.  The cozy, cushioned surface is easy on any spills they may take—or make.  And as no chemicals are necessary for cleanup, the turf is completely safe for pet use.  Play on.