AlternaScapes, an EasyTurf Dealer, Completes Terrace Installation

One of EasyTurf's many distributors is the Ellenton, Florida-based company AlternaScapes. Since 1998, AlternaScapes has provided local residents, businesses, and other groups with EasyTurf artificial turf products to replace maintenance-heavy live grass and unsightly dirt areas with beautiful synthetic turf. A few of its prominent installations include St. James Cathedral School, Fuzzie Buddies and Dog Spot Hotel, Signature Place, and the Florida Botanical Gardens.
In recognition of AlternaScapes' outstanding work and the company's integral role within EasyTurf's nationwide network of dealers, we would like to highlight a recent installation done by AlternaScapes in Miami Beach, Florida. The project was a residential installation located on a gorgeous eighth floor terrace area. In total, the project made use of 1,183 square feet of EasyTurf artificial grass on the roof terrace. The artificial grass chosen for this roof terrace was Nutmeg Lush, a turf type which makes use of two-tone field green and olive green blades and an interwoven nutmeg brown thatch. The turf's design makes it one of EasyTurf's most realistic-looking artificial turf products.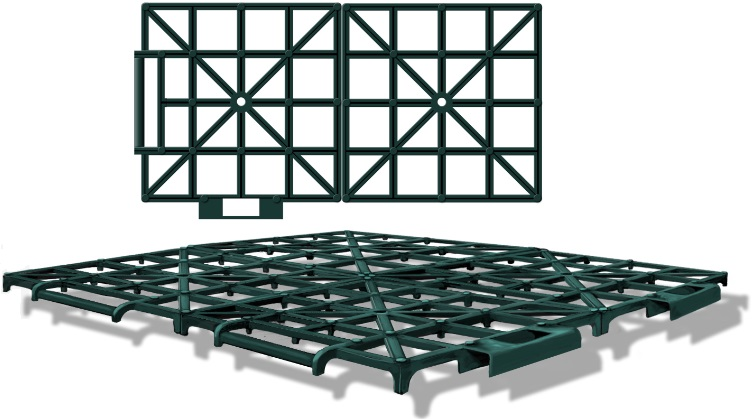 In addition to the artificial grass on the roof terrace, AlternaScapes' installation made use of EasyTurf's unique VersaTile system, an example of which can be seen above. VersaTile is placed directly beneath turf and will allow rain, water, and other liquids to be quickly and efficiently routed to the building's drainage areas after passing through EasyTurf's 100%-permeable turf backing. VersaTile is most often used in commercial installations, but is also desirable in unique residential locations such as this terrace, where a non-permeable liner or drainage surface such as concrete or asphalt lies beneath the turf.
Below are a couple of photos of the terrace's beautiful new EasyTurf flooring, courtesy of AlternaScapes. For those interested in utilizing AlternaScapes' services, please visit JustLikeGrass.com.