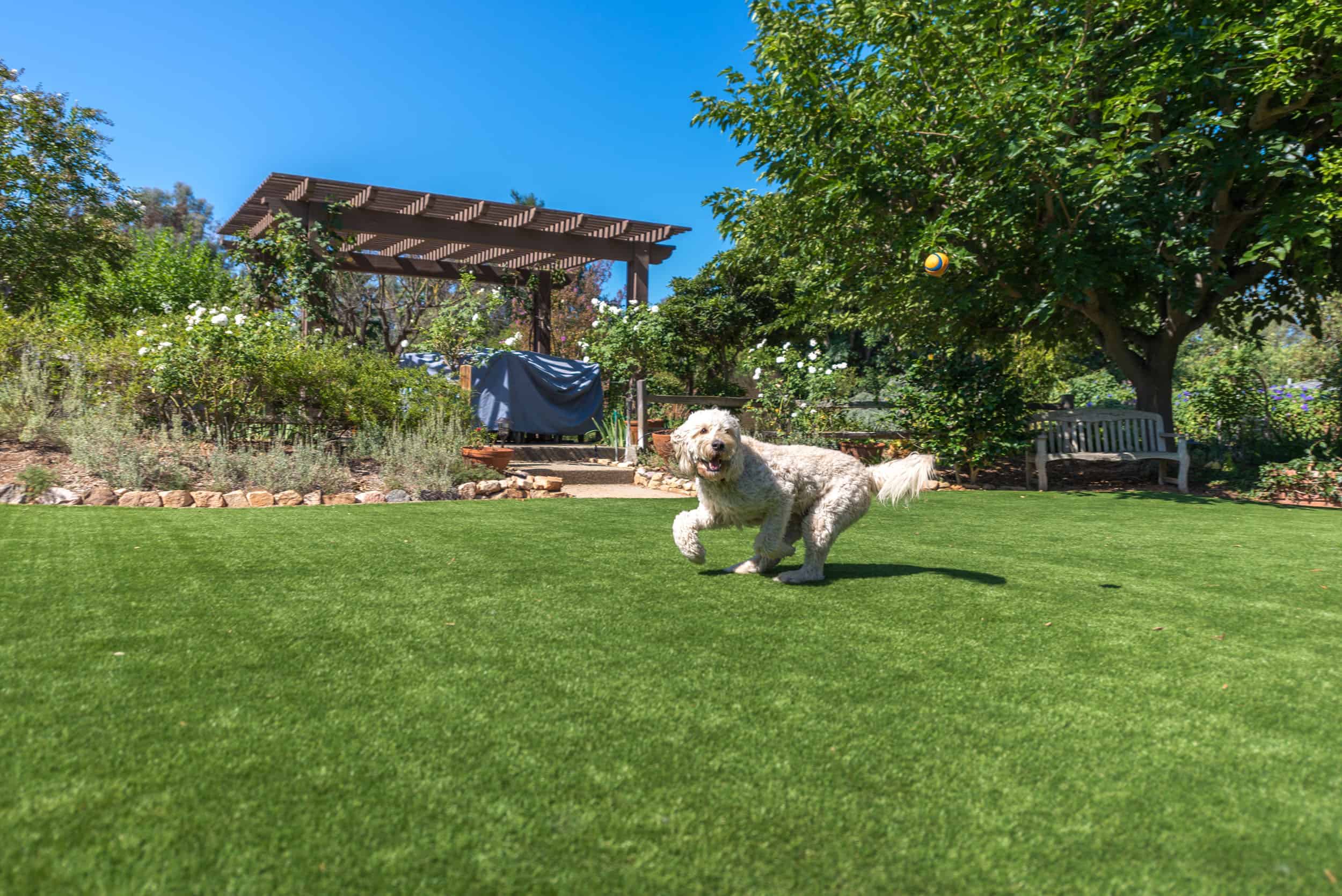 Pet owners have discovered that artificial turf for dogs comes with many benefits and can make pet ownership more enjoyable. Artificial grass has eco-friendly pet options which reduces the time you spend cleaning your furry friend and repairing your yard from its use.
Reasons Pet Owners Love Artificial Turf for Dogs
Those who own pups love pedigree artificial turf for dogs because:
· There are less fleas and bugs on their pet because they can not survive in the yard.
· You don't have to bathe your dog after it plays outside.
· There are fewer odors on your dog.
· There are no more holes in the yard to refill.
· There is less dirt brought into your home from your pet.
One thing pet owners like about artificial turf is that the grass does not stain or die where you dog uses the restroom. It is also easier to find pet waste and clean it. Spots, even urine areas, are easier to spot because of the uniform grass (this way you don't have to constantly watch your dog). Feces can easily be picked up with a pooper-scooper and then the area can be sprayed down. If there is a stain on your artificial turf for dogs, you can clean it with some mild soap and water.
The second thing pet owners love about artificial turf for dogs is the fact there are no more fleas or other bugs on their pets. Artificial turf for dogs eliminates food for bugs, so they migrate elsewhere. For pet owners, this means you will no longer need to use insecticides on your yard.
Consider Drainage
The most important aspect of choosing an artificial turf for dogs is drainage. A good backing will go a long way to reduce odors and direct water away from your yard. Not only is the backing important, but so is the base. Look for a dependable base material when you consider artificial turf for dogs. The base separates artificial grass backing from the ground and this material, usually a crushed stone, have tunnels built into this area to help drain water out of your yard.
Your Pet Won't Know the Difference
Pets can use the lawn with artificial turf just as it would natural grass. Using the right infill will also make your pet more comfortable in the yard. While there are several types of infill, we recommend Envirofill.
Envirofill is a coated sad coming in a variety of colors. It is extremely safe for children and pets because it is non-toxic. It is also great at reducing odor. It is more expensive than other infills, but is highly durable.
A more affordable option is thatch, which is made from materials such as dead leaves. This infill is natural looking on your lawn and makes pets feel right at home. However, it does decompose, so it will need to be replaced more often.
Another affordable option are the rounded silica granules. This is a product manufactured into smooth granules. The positive traits of this product are its smooth texture on paws, durability, and affordability. It makes for great drainage as well and has an anti-microbial coating that stops the spread of bacteria.
Stay away from crumbled rubber as an infill for an artificial turf for dogs. While it is highly durable, it also absorbs heat and that can heat up your yard quickly. This could burn a dog's paws.
Blades Make a Difference
Pet owners have something else to consider when choosing an artificial turf for dogs: the blades. The style of blade used also provides for drainage, lawn beauty, and comfort. Most pet owners find a combination of short straight blades and curly blades works well. This combination not only looks the most natural, but feels natural when you walk on it.
Installing artificial turf for dogs is becoming a solid option for homeowners with pets because of its safety, easy care and durability. With good drainage and no fleas, your pet will thank you for a happier, healthier life.