5 Reasons Why Dog Owners Love Artificial Turf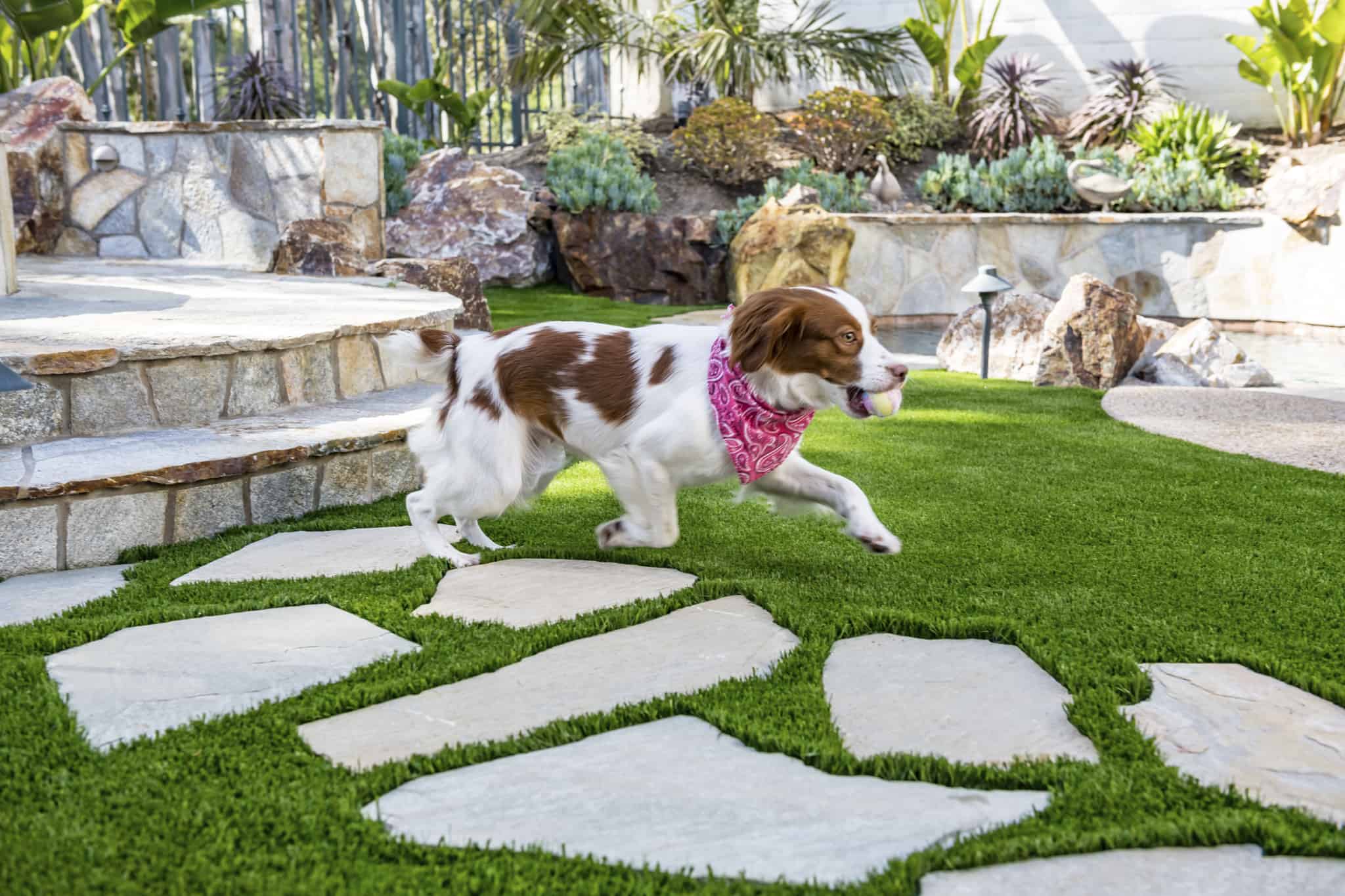 You love your dog and you love your lawn. But one of them can cause considerable damage to the other. Some dogs like to dig holes in the grass, while others leave urine spots that look similar to fertilizer burn. Many dogs also wind up traipsing mud and dirt into the home.
None of that happens with a synthetic grass yard, which is built for durability and longevity — regardless of whether people or pets are playing on it.
Dog owners love synthetic grass as much as their dogs do. Here are five reasons why they find it  so appealing:
Lush, Soothing and Inviting
No prickly weeds, no brown patches and­ — most importantly — no fleas and bugs that could take up residence on your pet. Artificial turf eliminates natural grass as a food source for fleas and bugs, so pests migrate elsewhere. As a result, dogs no longer need a bath after playing outside. Plus, you can let them play for as long as they want without fear of them damaging the grass.
No Holes and No Mud
Dogs can leave natural grass looking disheveled, thanks to their love of digging holes and kicking up the ground after they relieve themselves. Environmentally friendly rubber infill prevents dogs from burrowing in synthetic grass, and the elimination of sod means no more dirty or muddy paws.
Less Maintenance
Artificial turf doesn't need mowed, trimmed or edged, nor does it need to be treated with pesticides. That gives your dog more time to spend playing in the yard, rather than waiting for a chemical application to dry.
Fast Drainage
Most dogs prefer to play and lounge on dry grass, and a high-quality artificial lawn such as EasyTurf offers 100% permeable, rinse-clean technology that results in fast drainage after rain or snow, as well as reduced odors. The turf's solid base features built-in tunnels to improve water flow and separates the turf backing and multi-colored blades from the ground.
Easy Cleanup
Dog waste can easily be picked up with a pooper-scooper, and you won't inadvertently remove any clumps of ground with it (a common occurrence in natural grass yards). The area then can be sprayed down with a hose.
With so many health, safety and maintenance benefits, a synthetic lawn can be a smart and sensible option for homeowners who also happen to be pet owners.
EasyTurf is backed by an industry-leading 15-year warranty and boasts more than 40,000 installations nationwide. Let's get started on your lawn today: Contact Us.