Backyards Just Got Better: Cesar Millan Introduces EasyTurf for Pet Owners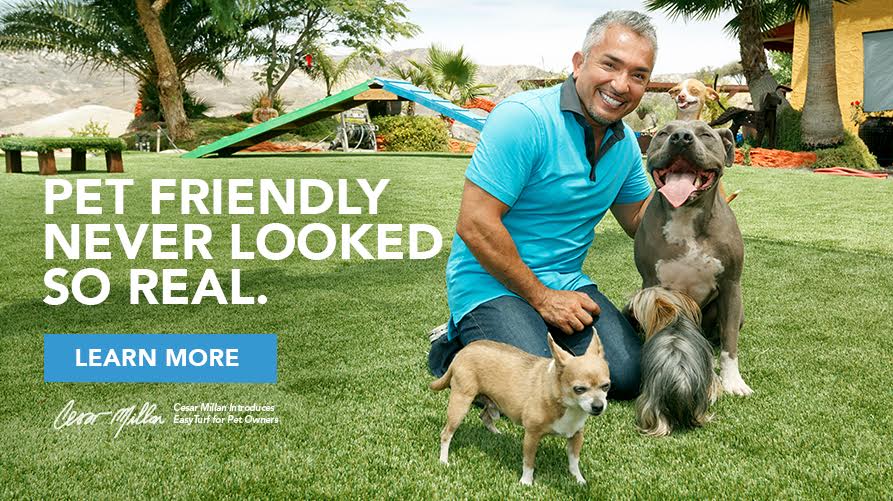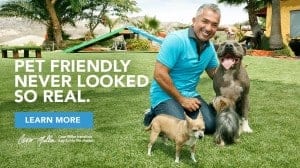 The time has never been better for EasyTurf pet friendly artificial grass landscape.
World renowned dog whisperer, Cesar Millan recently introduced EasyTurf artificial turf for dogs as his turf-of-choice for pet owners. Millan recommends EasyTurf to those seeking to eliminate common lawn problems associated with pets.
Millan is widely known for his television series, Dog Whisperer with Cesar Millan 2004 – 2012, which was broadcast in more than 80 countries worldwide. Cesar Millan is currently working on his new television series on National Geographic's Nat. Geo Wild channel and the expansion of his famed Dog Psychology Center ™ (DPC) in Santa Clarita California.
Cesar Millan says drainage was critical in his decision to partner with EasyTurf on the more than 10,000 sq. ft. installation of artificial grass at the DPC. "We have a lot of land to cover, so it's important to me that our landscaping is easy to care for, safe for our pack and has proper drainage," said Millan.
Along with the drainage capabilities EasyTurf products trump other dog friendly synthetic grass manufacturers on key customer deliverables. Millan notes durability, comfort and look and feel as those that set EasyTurf apart from the competition.
"Not only does Easy Turf look just like natural grass, it helps to eliminate common lawn problems associated with pets like brown spots from urine, tracked in mud, grass clippings and it can even deter your dog from digging holes," Millan stated.
EasyTurf's state of the art fibers and infill provide a safe, cushioned place for pets to play and train, making it one of the best artificial grass for dogs. Our synthetic pet grass's advanced engineering ensures pets a durable, soft lawn for many years to come, while also drastically reducing water and lawn maintenance costs.
Millan stated, "EasyTurf was the best choice for us and it's the best choice for your pack."