Outdoor Backyard Putting Green


Challenge your senses – Signature Series Backyard Putting Greens
Designed by golf professionals, engineered for your backyard putting green. All EasyTurf outdoor putting greens are designed to provide an unparalleled authenticity in surface quality and aesthetics. With custom features emulating famous courses, EasyTurf Signature Series backyard putting greens are a spectacular playable showpiece that provide the ultimate backyard putting green experience. EasyTurf Signature Series Golf Greens deliver an authentic look and feel, giving you a true home golfing experience. For golf enthusiasts, EasyTurf is the highest quality provider of professional-grade backyard synthetic putting greens, providing unparalleled realism in terms of surface quality and aesthetics.
Every EasyTurf outdoor putting green is installed with the highest quality and the most realistic backyard golf green surface and offers the longest life expectancy for endless practice that will shave strokes off your short-game. Our professional design and installation team can help you design the perfect backyard golf green with custom elevations, swales and bunkers, creating a spectacular, playable showpiece for the ultimate backyard putting green experience.
What Makes US Different?
FieldTurf offers a "True Roll" backyard synthetic putting green turf. Every outdoor putting green for the home we do is custom to your yard and playing style. No two golf greens are the same.
Professional golfers, athletes and even former presidents choose EasyTurf products for their home practice green.
Arnold Palmer's golf course design company used EasyTurf greens on top courses and practice areas.
It is not a decorative backyard putting green turf. It is a functional, realistic home golf practice surface that has a useful life of 10-15 years.
Design
Design your backyard putting green to fit your space and playing style and for maximum visual appeal.
Build in undulations/breaks, minimal straight putts for more realistic practicing.
Elevate portions of the backyard putting green, up and downhill action.
The speed of your backyard putting green turf is set to match your playing style.
Sand Filled Greens
EasyTurf home outdoor putting greens are infilled with 30 grit sand.
EasyTurf uses a refined sand that is less prone to clumping. This avoids the green hardening like a miniature golf course, which is common with companies that use beach sand.
EasyTurf rolls our backyard putting greens so that it bends the blade over the sand. This helps to eliminate "rooster tails" of sand.
Cups
EasyTurf uses 6" aluminum cups on our backyard putting greens, the same type that is used on real golf courses. Lower quality backyard putting greens use 4" plastic cups. 4" cups get clogged easily with debris. Plastic cups will chip and fade in the sun. EasyTurf wraps the cups in a mylar jacket then sets them in place with cement. This allows for the adjustment of the cup, if needed in the future.
Flags
EasyTurf uses professional strength 400 denier flags for backyard putting greens.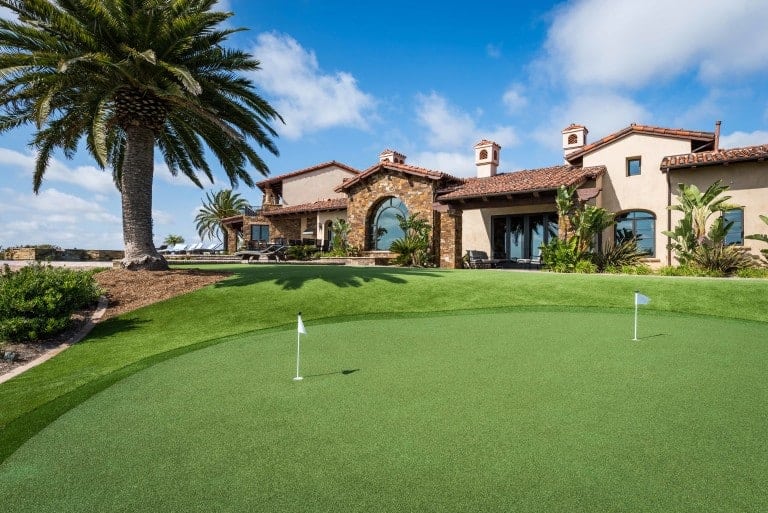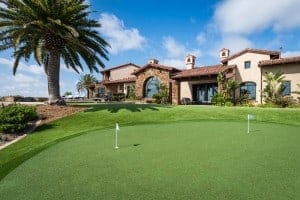 Drainage
Bent Grass Putting Green
The backing of EasyTurf's bent grass outdoor putting greens is solid. Backyard putting greens are contoured to allow water to run into the fringe area which allows for drainage through the porous backing of the fringe turf.
Low Infill Putting Green
The backing of our low infill home putting greens is solid with drainage holes engineered into the backing. This then allows for drainage through the putting green surface, as well as the fringe area.
EASYTURF Professional Putting Green features:
Putting surface "holds" the ball to practice short-game shots
Predictable putting, even on downhill lies
Long lasting, with an estimated lifespan of 10 plus years
Low maintenance; occasional brushing and rolling
Immune to temperature extremes
Dries quickly and is playable when wet
Professional grade putting green cups and hardware
Extremely resistant to damage and wear
"Speed" of backyard putting greens is adjustable
Maintains playing qualities year after year
Maintains natural-grass look twelve months a year
Seven-year performance-and-wear warranty
No Fading – UV treated polypropylene fibers
Specially graded sand, granular material, plus cryogenically processed rubber
No sub-surface parts to collapse or deteriorate
Highlights:
Backyard putting green installation process, including proprietary "TourFringe," a true apron cut, providing the distinctive "3-cut" putting green look like real greens.
Home putting green installation process including moguls, tiers, bulkheads and bunkering reminiscent of real course designs of Palmer, Nicklaus, Dye and Doak.
A "contoured elevation" practice putting green installation resulting in spectacular and realistic aesthetics, with "flow" and "subtleties."
Tedious backyard putting green infill process which provides receptiveness in shots just as in real greens, which can be customized for a particular backyard putting green design.
Pure and "tight" professional putting surface with conditions replicating tour greens.
Custom Backyard Putting Green Features Menu
Elevations– Elevation consists of raising the surface of the golf green above the existing hardscape, allowing multiple contours and undulations. EasyTurf Elevation pricing is based on the highest point of the turf area from the existing hardscape, with a maximum of 12." Slopes cannot exceed a 45-degree angle.
Moguls– To further compliment the elevation in our Custom Greens, the addition of Moguls (either in single fashion or in complexes) truly enhances the design and realistic appearance, with an amphitheater look so prevalent in the multitude of TPC Courses played on the PGA Tour. More commonly known as "mounds" or "berms," they are custom-shaped and bring a special distinction to every project. There is no additional charge for moguls unless the putting green is in excess of 600 square feet.
Bunkers– In order to accentuate the realistic look with realistic playability, Bunkers are custom shaped with "Turf" faces and filled with white bunker sand.

Steps– Further enhancing the Elevation, Steps can be utilized around various portions of the Green elements and are functional while providing realistic golf course aesthetics. Steps are made of Treated Lumber (6"W x 4"H x 14"L) and are customized for each project.

Tee Box – As a benefit of the shot acceptance performance of our Greens, a Tee Box can be created where shots can be played from a variety of distances. The standard Tee Box is bordered with railroad ties and is 4' x 5'. We use our Tee Line turf so the surface will simulate an actual teeing ground.
Golf Green Cups – Includes (1) Cup and Flag setup per 100 square feet.  These aluminum Cups provide actual sound and realism. Our proprietary installation process insures a tightly infilled Cup edge while allowing the perfect critical height adjustment.
Unique Lighting – We have lighting available to enhance your outdoor putting green turf.